Tuesday, December 3, 2013 | 9:00-11am
Centre for Social Innovation – Alterna Savings Meeting Room
215 Spadina Avenue, Toronto, ON M5T
The workshop will guide participants into understanding how to effectively use strategic information of their organization to create messaging that can help prospect, and secure investment from potential corporate and individual sponsors. With Demographic, empirical and organization history, a strong Marketing strategy allowsothers to get a sense of an organization from a business perspective. With the need to build capacity, sponsorship is linked to marketing each providing transferable information for an organization to:
• understand and utilize your value proposition
• assessyour prospects and understand what they need
Attendees can expect to get an overview of 3 key elements:
1. Identifying prospects/ creating a fundraising pipeline
2. Value proposition of the organization
3. Effective Implementation of the process
What benefits can you offer sponsors?
• How do we find and speak to potential sponsors?
• How do we price sponsorship of our event or activity?
• What makes sponsorship different from a straight donation?
Registration Fee: $15
Registration Link: http://www.eventbrite.ca/e/marketing-decks-fundamentals-tickets-8389460101
About the Facilitator: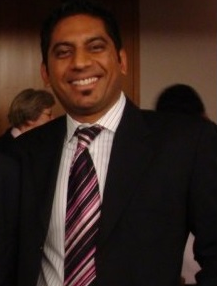 Sudarshan is an active dreaming and doing citizen of India and Canada. Professionally, Sudarshan brings over 16 years in developing markets and paths, consulting and delivering change across the travel, telecom and financial sectors Sudarshan also consults with non profit-agencies in fundraising, strategic planning and implementation of small strategies towards success. Additionally, Sudarshan mentors new immigrants and has served on a few non-profit boards. Sudarshanbelieves in dreaming big and achieving it with small victories. With so much time left, Sudarshan plays league cricket and is learning how to sing. Sudarshanis driven by the desire to illuminate within and share the light with the world with the Gandhian doctrine – "It starts with one".